In the era of COVID-19, everyone has had to quickly adapt to using technology in ways that we never thought we would have before. For our seniors, though, this uptick in necessary technology usage can be extremely isolating. Normal, regular visits have become scarce due to new COVID-19 rules and guidelines for resident safety, and without those regular visits, our senior loved ones don't get the family communication that they so desire.
However, the best thing about technology is that is can bring people together, even without being in the same room. Video conferencing, video calls, and messaging apps make communication easier than ever before. If your loved one is in our senior living Carlsbad facility, rest assured that we will do our best to teach them how to be in contact – and keep them in contact – with you and your family.
Are you looking for some suggestions on how to best stay connected to your senior? Here are a few that you might want to try out: 
1.) FaceTime
In today's technology age, you'd be hard-pressed to find someone who didn't have a smartphone – even our elderly family members seem to have one to use, even if they don't know how to use emojis and only use it for FaceBook. But if you have an iPhone, you've got a video calling platform already built into your phone without having to download anything extra!
If you and your senior loved one use Apple products, then you've probably seen the icon on your home screen for FaceTime, even if you've never used it. Using FaceTime is as simple as making a call, but allows you to see a video of your caller instead of simply talking to them on the phone. This makes it perfect for elderly family members who aren't the best with technology but still want to be able to physically see their loved ones when speaking to them. 
2.) Readeo
While you may have heard of FaceTime, you might not have heard of a service called Readeo. Readeo is a service that allows you to have a virtual storytime with your children – or, in your senior loved one's case – potentially their grandchildren or even great-grandchildren. 
This platform has over 150 books that you can read virtually with your grandkids, giving you that valued storytime that many people in the pandemic have had to give up. If you use the free version of Readeo, you are limited to using only the book of the month, but paying a $9.99 monthly fee opens up the entire library of children's books to you and as many "BookChats" as you can stand. For the grandparents who miss the connection of reading bedtime stories to their grandkids, Readeo is an amazing virtual option.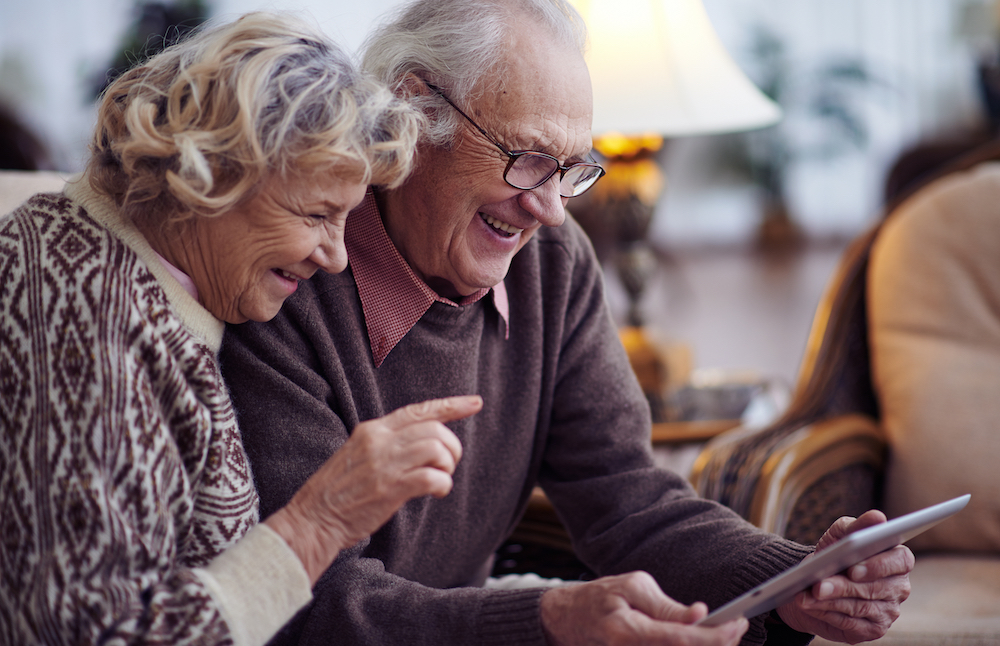 3.) Marco Polo
Marco Polo is no longer just a famous explorer or a beloved summertime pool game staple. Marco Polo is also a video messaging service that allows you to leave video messages for your loved ones.
A combination between a text message and a video call, Marco Polo allows users to make and send video messages for the other party to respond to at their leisure. It operates like any other video sharing app as well, with voice changers and filters to make the experience more fun. Plus, Marco Polo allows you to save the videos that you want to keep, giving you and your senior the opportunity to watch your favorites again and again.
If you have a family member that works weird hours, lives out of state or in a different country, or is bad about calling back or answering calls, then Marco Polo may be a great tool for you to use.
4.) Instagram
Instagram, while not an app that allows communication in the general sense, allows family members to stay connected by picture sharing. Like Facebook, once you download the app and create an account, you can "follow" people to see the pictures that they're sharing.
For seniors, this is a great way to keep up to date with what's going on with their family members, especially their high school and college-aged grandchildren. You're able to message the people you follow, "like" pictures, and make comments on photos. It's not online communication in the way that you'd generally think about it, but it allows another avenue for seniors to keep up with what's going on in their families' lives.
Instagram also has many different kinds of users, so it's easy for seniors to follow accounts of things that they're interested in, like dogs, food, or travel. They can try new recipes they see, do research into places that they've never been or never heard of, and get a little more information about what's going on in the world today. So, while Instagram may not be what you'd think of about keeping a senior connected, it a great tool to keep them involved. 
How We Keep You Connected
Here at our senior living Carlsbad facility, we are fortunate to use the Sagely app integration to make sure that loved ones can stay connected with their senior living here. With Sagely, seniors are able to do so many things like: keeping track of calendars and events on site, keeping records of their wellness and assessment checks, manage community engagement, and even keep family members informed as to what is going on in their senior's life.
We are fortunate to use this service to make sure that both you and your senior have the inside scoop as to what is going on in our senior living Carlsbad retirement home. With Sagely, you're able to make sure that your senior is able to live life to the fullest and enjoy their time with us, even though you may not be able to be here. We value transparency and interaction, and you can trust us to put this technology to use to keep you informed.