Embarking on the search for a memory care community can feel overwhelming, especially when seeking the best for a loved one. We understand this deeply at Bayshire Carlsbad, and we're here to make this journey as seamless and reassuring as possible for you. Through our dedication to providing excellent services for memory care in Carlsbad, we've pinpointed vital aspects to consider and tried to make things as seamless as possible for you.
Interested in learning more about memory care and what you should expect? Here are seven key things you need to keep in mind:
#1.) Memory care offers a personalized approach.  
Every individual's journey with dementia or cognitive impairment is unique – it's not one size fits all. In an effort to provide quality care, it is necessary to meet each resident where they are. No matter what stage they are in or what their needs are, every individual living with dementia deserves to live their highest quality of life. That is why we here at Bayshire Carlsbad focus on tailoring interventions, activities, and support to fit each person's specific needs, preferences, and history. This will help your senior loved one feel right at home in our community.
#2.) Safety and security is a top priority. 
Due to the nature of the disease, it is imperative to ensure the safety and wellbeing of someone living with Alzheimer's. In a matter of moments, an individual can experience symptoms and behaviors that can put them or those around them in danger. From dementia wandering to displays of agitation or aggression, safety should be paramount. 
In our commitment to offering the best memory care in Carlsbad, we understand this concept full well and prioritize the safety of our residents. That is why our community is designed with secured entryways and spaces, ensuring that our residents feel safe while still preserving their dignity and independence. Family and friends can receive peace of mind knowing that their senior loved one is safe and secure. 
#3.) Highly trained and compassionate staff is there to help. 
When choosing a quality memory care community, it's more than selecting one that has a fancy building or a laundry list of fun amenities. At its core, the people who work there are the ones that really make a difference. Finding a community that employs highly trained staff who are compassionate and truly care about residents will make a world of difference for your senior loved one. 
Here at Bayshire Carlsbad, we go above and beyond basic caregiving. We are proud of our specially trained staff, equipped to understand and manage the diverse behaviors and challenges associated with dementia. Our kind and caring staff members strive to create a safe, nurturing environment for everyone at our community. In addition to this, continuous training ensures that we maintain our position as leaders in memory care in Carlsbad.
#4.) Engaging activities allow residents to be more connected and involved. 
Who says that memory care has to be boring or stale? Keeping residents mentally and physically active is a crucial component of our approach to memory care. We believe that our residents should be engaged in activities that are stimulating, relaxing, and encourage social interaction. That is why we offer a robust and diverse calendar of activities. From art therapy to bingo nights to dance classes, we have something for everyone! This helps to keep the spirit of our residents vibrant and ensure that they are making the most of their stay at our memory care community.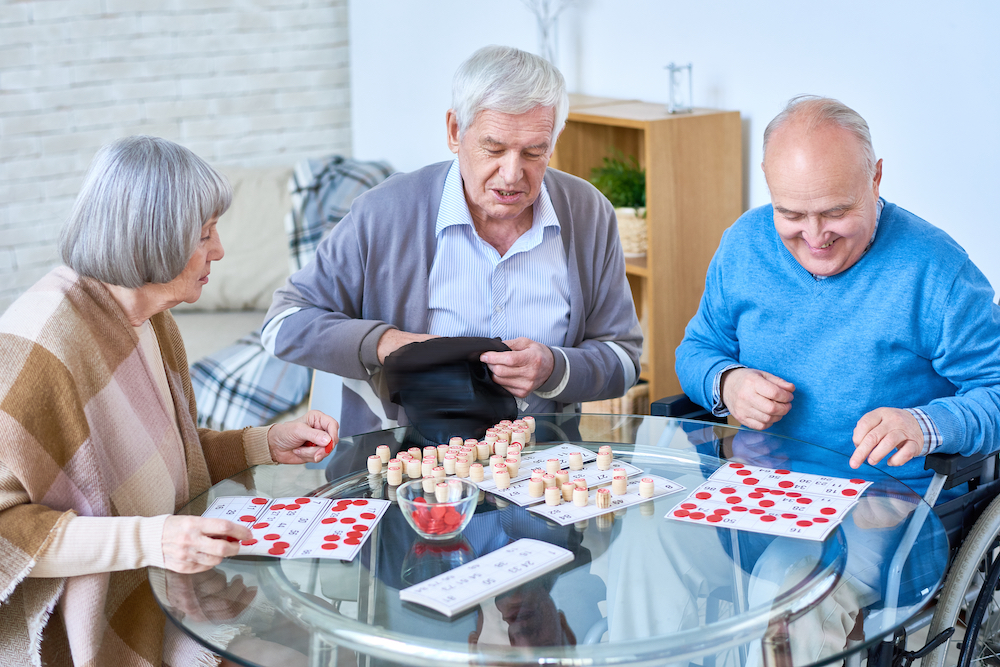 #5.) Family support and involvement is always encouraged. 
Transitioning your senior loved one to a memory care community is a big step for all involved. It is only natural that this process will be met with a multitude of mixed emotions. At Bayshire Carlsbad, we understand the various challenges that come with making that move and encourage you to stay connected and involved with your senior loved one. Visit them often, join them for meals, and take part in various activities or holiday celebrations. Keeping this kind of line of connection is a valuable component in ensuring the emotional and spiritual well-being for both you and your loved one. 
#6.) A meaningful and holistic approach to wellness.
Our memory care isn't just about addressing cognitive challenges. After all, dementia can have a significant impact on many different areas. At Bayshire Carlsbad, we emphasize a holistic approach, ensuring the emotional, physical, social, and spiritual needs of our residents are being met. By doing so, we are able to foster an environment that allows our residents to lead their highest quality of life. 
#7.) Location and amenities matter.
The environment in which our loved ones reside plays a pivotal role in their health and wellness journey. Nestled amidst the serene landscapes of Carlsbad, CA, we are more than just a memory care community— we're a sanctuary. We pride ourselves on our verdant outdoor spaces and tranquil walking trails, perfect for peaceful contemplation and gentle exercise. Plus, with the added advantage of being just 3 miles away from the beautiful Carlsbad beaches, our residents have the opportunity to experience the therapeutic calmness of the ocean breeze and the soothing sound of waves. At Bayshire Carlsbad, we believe in harmoniously blending nature, care, and community for a truly holistic experience.
Discover the Best Memory Care in Carlsbad
When it's time to consider memory care for a loved one, understanding the comprehensive care we offer is crucial. Our dedication to memory care in Carlsbad is unwavering, and Bayshire Carlsbad stands as a beacon of compassion, professionalism, and excellence. As members of this community, we take pride in cherishing memories, celebrating life, and creating moments of joy and contentment for every resident.
To learn more about memory care in Carlsbad, and experience firsthand what makes Bayshire Carlsbad a haven for many, reach out to us today. Schedule a tour today, walk our tranquil paths, and feel the embrace of our community. Let us be a part of your journey.