Are you ready for the weather to warm up so you can finally shake off those winter blues? As a resident at our assisted living in Oceanside, you may not experience winter as significantly as our northern friends, but we can all agree that this has still been a season for the record books. Now that March is here, it's time to start planning for fun spring activities all that awaits you as the days grow longer and the temperatures warm up. 
It is important to take care of yourself all year round, including both your mental and physical well being. Today, our team here at Bayshire Carlsbad have prepared a few of the best tips to help you enter springtime feeling your very best. Don't miss out – keep reading below!
Tip #1: Wear Multiple Layers
Springtime is notorious for being chilly in the morning yet can be warm by the time the afternoon rolls around. If you have plans to spend the day away from home or outside the assisted living in Oceanside, be sure to dress in layers or pack along an extra jacket. It doesn't take much for a cold, stiff wind to leave you feeling chilled and uncomfortable. That being said, the afternoon could bring a lot of warm sun and you'll want to shed your pullover so you can wear a lighter top underneath. 
Tip #2: Participate in Outdoor Activities
One of the best aspects of spring and summer is the chance to spend more time outdoors. For seniors, being able to head outdoors comes with a multitude of health benefits. These include improving your mental health, getting a health dose of Vitamin D, decreasing irritability, and bringing about a sense of serenity. 
This spring, be sure to participate in various outdoor activities. Here are a few great suggestions depending on your mobility level:
Go for a walk or hike

Play a

round of golf

Work in the garden

Take your grandchildren to the park

Visit the zoo

Play fetch with your dog

Read a book on your patio
Here at Bayshire Carlsbad, our assisted living in Oceanside offers our residents a thriving community calendar. You can join a walking club, take a yoga or tai chi class, or participate in a variety of other outdoor activities. However you  can get outside is great, just make sure you get plenty of fresh air and sunshine!
Tip #3: Enjoy Seasonal Foods
While we all undeniably enjoy the heavier comfort foods that come with the holidays and wintertime in general, now is a great time to switch up your eating habits and enjoy a healthier diet. Spring is known for bringing around healthier, greener foods. Plus, it's an excellent opportunity to head down to the farmer's market for locally grown, organic produce! 
A few of the best foods you can add to your diet this season include asparagus, strawberries, peas, and avocados. Making these types of positive changes to your eating habits can do wonders for health, including improving heart function, decreasing the risk for diabetes, and even reducing inflammation in your body.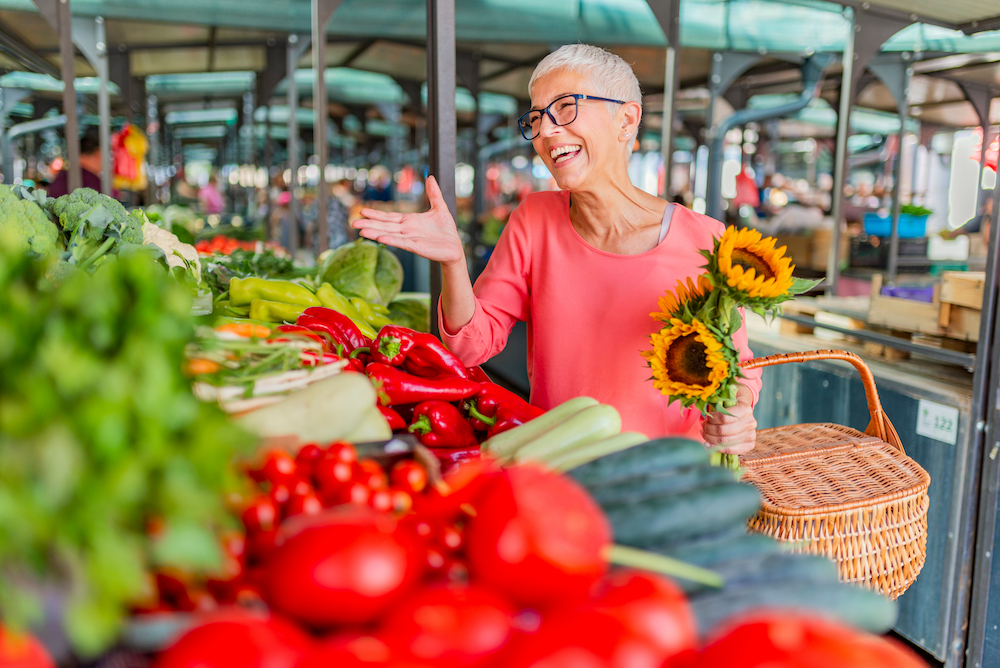 Tip #4: Stay Hydrated
As the weather turns warmer, it becomes all the more important that you do your best to stay hydrated and drink plenty of water. Many seniors experience diminished thirst with age, as this is a natural occurrence. However, because of this, it is easier for seniors to become dehydrated. Dehydration can lead to many health risks, including strokes and an increased risk for deadly falls. If you have plans to head outdoors, make sure that you pack plenty of water and take steady drinks throughout the day. By the time you feel thirsty, you are already experiencing a mild form of dehydration. Also, be mindful of any medications that you are taking that could make you feel dehydrated quicker. 
Other than water, you can use various foods to help boost hydration. For example, watermelon, mangos, and other fresh fruits are a great, all natural way to boost your hydration. 
Tip #5: Schedule a Health Check Up
If you haven't had a check up with your primary care physician for a while, you could be overdue! Spring is a great opportunity to book an appointment with your doctor. Talk with them about any health concerns you are having, see if you are due for various screenings, and follow up about any medications you are taking. Even healthy seniors should be checking in with their doctors at least annually. The best line of defense against disease, cancer, and illness is prevention! 
Tip #6: Spend Time With Friends and Family
Wintertime can make travel extremely difficult, as no one wants to get out in the harsh conditions. Plus, the holidays can also really complicate things and bog people down. However, spring provides a great chance to reunite with friends and loved ones. Schedule an Easter brunch, book tickets to a local baseball game, or simply invite friends to go on a picnic in the park. Humans are social creatures and being able to connect with others plays a significant role in maintaining your mental and physical health. 
Assisted Living in Oceanside
If you are wanting to become a part of a senior living community that values your health and wellness every single day of the year, then perhaps it's time to check out Bayshire Carlsbad. Here at our assisted living in Oceanside, we strive to provide exceptional care to all of our residents. We do so by not only offering a wealth of fun and stimulating activities, but also by focusing on each individual's needs. In fact, being able to have a genuine connection with our residents and foster a sense of community is one of our primary goals. 
To learn more about Bayshire Carlsbad and all of the excellent amenities that we offer, contact us today! We would love to answer any questions you may have and even schedule a time to have you come and take a tour. You deserve to spend your golden years being the happiest, healthiest version of yourself!
[/fusion_text][/fusion_builder_column][/fusion_builder_row][/fusion_builder_container]