Here at our independent living in Oceanside, CA, we have many opportunities for our seniors to get up and active and make the most out of their retirement. From enrichment opportunities like art and cooking classes, to low impact exercise classes like yoga and tai chi, there are a plethora of things to do to keep your senior happy, healthy, and well, both physically and emotionally. 
However, it's important to remember that seniors can get exercise enrichment elsewhere, too! During National Golf Month, it's more important than ever to recognize how much of a positive impact golf can have on senior health and well-being. Golf isn't typically a sport that we think of when we think of "getting active," but it's important to remember that every sport, no matter how active it may seem, has a place to help our seniors exercise.
If you or your senior is looking to start golfing as a sport, here are a few reasons why golfing is a great idea:
1.) It gives your senior a new hobby.
Having a hobby is critically important for any senior to have. Having a hobby means that you get your brain working and active, giving yourself something to focus on and learn more about. 
It's hard to get out and be active instead of sitting at home and watching television, but golf makes it easy! It isn't a high impact sport, so it's easy to begin playing even without a lot of endurance or physical training. Plus, most golf centers have the option to rent clubs and golf balls, making it cheap to test out for yourself. 
Having a new hobby is great for seniors because it helps them to be engaged in ways that they typically wouldn't be. Learning new rules, new terminology, and new techniques to try when they play really takes a lot of brain power in a way that they may not have been using. Plus, being active and focused and engaged on something new is great for seniors who may struggle with cognitive diseases, like dementia or Alzheimer's.
2.) Making new friends is easy when you've got something to bond over.
Being in a retirement home, even one as nice as our independent living in Oceanside, CA, is a huge adjustment for anyone to make. It's a massive step to go from living in your own home to living in a community with other seniors, even if perks like housekeeping are great to have. 
Moving away from home comes with its own set of challenges. If you are living in a retirement center that is quite a ways away from where your home was, you may not be able to spend time with the same friends that you have for years, and making friends as a senior can sometimes feel like an impossible task.
That is why it is so important for seniors who do live in retirement homes to be able to bond with a group of other seniors and make new friends, and the easiest way to bond with someone is over a shared interest. 
You might have never played golf, but so what? Your new friend really enjoys playing golf, and they've invited you to join them the next game that they play. Take them up on it! It may become something that you love and are just as passionate about, and then you'll really be able to bond over your new, shared hobby.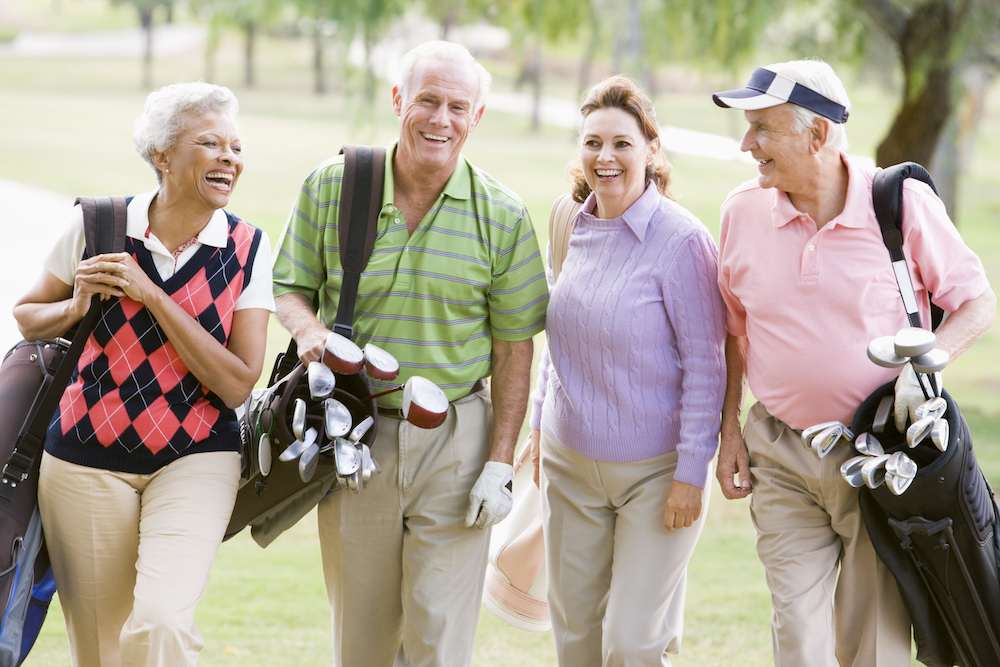 3.) Golf is a great way to promote wellness and exercise.
We will admit that golf does not seem like the kind of sport you'd want to play to promote health and wellness. In fact, to most people, golf may not seem like a sport at all. But this could not be farther from the truth.
Golf is a great, low-impact way to get your senior up and moving. It might not be in the traditional sense of the word "sport," sure, but the benefits that playing golf may bring will surely counteract any arguments made against it. Golf is being able to play a sport and maintain that healthy lifestyle without breaking a sweat. 
Here are a couple of ways that golf promotes exercise:
Building up leg muscles. Even with a golf cart, golfers still need to walk for significant amounts of time to find balls, set up the tee, and more. Plus, being able to plant your feet and twist your ankles to keep yourself upright can be more of a strain than you imagined. Next time you play a round of eighteen holes, feel how sore your legs are at the end of the day. 
Building up arm strength. It might not feel like much, but being able to swing golf clubs with enough force and power to send the ball flying that kind of a length takes some serious arm strength. Seniors may not be able to hit with that kind of power at the beginning, but it's something that they might be able to build up to over time and with a lot of practice. 
Building up core strength. To be able to swing the club to hit the ball, you need to be able to swing your whole body, and that's where building up your core strength comes into play. Playing enough golf can really help build up core muscles, which is great for seniors to help them better keep their balance and help to lift them off the floor should they potentially fall. 
Independent Living Oceanside, CA
Our independent living in Oceanside, CA has everything you need to get started on your golf pro journey. From our beautifully manicured grounds where you can practice your swing, to our offsite group outings, to new friends that you can bond with, Bayshire Carlsbad wants to give you the best experience possible.
Whether you play golf or not, we want you to know that we will always do the best that we can to promote your health and wellness in the best way possible. 
If you are interested in touring our facility to see if this is where you want to make your new home, contact us today!