Summer is in full swing and it's the perfect time to get out and participate in the various activities that warmer weather has to offer! As a senior, you shouldn't feel as though your options are limited. Even if you face issues with mobility, there are still many ways you can enjoy the summer fun. In fact, one of the best exercises that older adults can do is swimming. As a resident of the senior living in Carlsbad, CA, swimming can be extremely beneficial for your overall health and wellness.
Curious to learn more about this awesome summertime activity? Continue reading below to learn more about why seniors should give swimming a try!
Reason #1: Improve Your Strength
Falls and injuries are a major concern for many older adults. While aging is unavoidable, there are measures that you can take to help strengthen your body and in turn, decrease your risk of falling. Swimming is one of the best ways you can build up your body strength and develop overall muscle. Whether you want to take a water aerobics class or dive right in and swim laps, you will be reaping the benefits of getting into the pool. Swimming can be especially beneficial for decreasing back pain and discomfort in the joints.
Reason #2: Better Cardiovascular Health
Are you at an increased risk for heart attack, stroke, diabetes, or developing other cardiovascular diseases? If so, you might be struggling to find an exercise routine that works best for you. If this is the case, it's time to give swimming a try! According to various research, even swimming for 30 minutes a week can help to guard against heart disease, stroke, and type 2 diabetes. Swimming gets the heart pumping and blood flowing without ever having to lace up your tennis shoes like you might to go for a bike ride or jog.
Reason #3: Decreased Stress and Anxiety
For many individuals, getting into the water can be a great way to relieve stress and recenter their mind. Despite being retired and living at the best senior living in Carlsbad, CA, anxiety and stress can still happen. While there are many routes you can take to alleviate these negative feelings, exercise has been proven time and time again to be a truly effective measure. The next time you are having a bad day or want to take your mind off of things for a bit, get into the pool and see how you feel!
Reason #4: Naturally Bolster Your Energy
For some older adults, energy can be hard to come by. There are many factors that might contribute to this, including changes in medication or sleep patterns. That being said, feeling tired or run down isn't ideal. If you are someone who needs help in this area, exercising, including swimming, can be very beneficial. Of course there are going to be days where you don't feel up to doing a few laps in the pool! But note that by simply swimming three days a week, you can naturally bolster your metabolic rate which will lead to increased energy.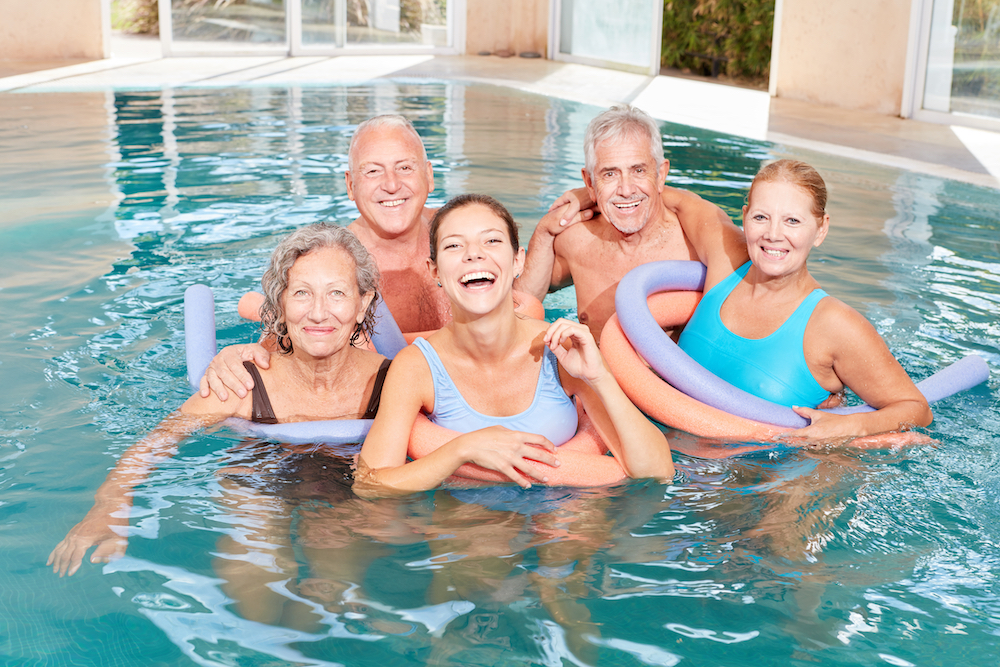 Reason #5: Reduce Joint Pain
As mentioned briefly above, swimming can be an amazing way to reduce joint pain. If you are an older adult who struggles with arthritis, inflammation, or other joint related issues, getting into the pool could be a viable solution. Due to the buoyancy of water, your body will have a natural cushion that will drastically reduce any pain you may typically experience while exercising. Knees and hips will especially benefit from this form of exercise. If you are someone who experiences this level of joint pain, be sure to talk to your doctor or physical therapist about adding swimming into your routine. 
Reason #6: Improve Your Bone Health
It is no secret that older adults, particularly senior women, struggle to maintain their bone health. Issues with osteoporosis and general loss of bone density is a common issue that many over the age of 65 face. In order to combat this, many physical therapists recommend resistance training in order to offset the effects of osteoporosis. Swimming can be an effective form of resistance training that also minimizes the risk of injury. In an effort to improve your bone health, consider having a conversation with your doctor about how swimming might help.
Reason #7: Great Social Activity 
While you can certainly swim solo if you prefer, getting into the pool also presents an amazing opportunity to socialize with others. This is particularly true if you enjoy taking classes such as water aerobics or group swim lessons. While there, you can meet other people your own age, make new friends, and enjoy the health benefits of staying active and social. Senior isolation is a major concern for older adults, particularly those with limited mobility or those facing cognitive decline. If you're looking for a fun way to keep active as well as stay connected, swimming is very likely to be a good fit for you!
Talk to Your Doctor First
An important thing to remember prior to starting any new exercise program is to speak with your doctor first. They will be able to tell you if you are healthy enough to begin swimming or if there are any concerns that you need to be aware of. Once you have your doctor's seal of approval, purchase a new swimsuit and get ready to hit the water! 
Stay Active at Our Senior Living in Carlsbad, CA
Here at Bayshire Carlsbad, we understand the importance of staying active as a senior. Not only is it good for your physical health, but it can drastically improve your mental and social health as well. That is why we take the time to specially curate a monthly calendar that features a wide variety of activities for our residents to enjoy. If your goal is to focus more on your health and wellness in retirement, moving to our senior living in Carlsbad, CA could be an excellent solution!
To learn more about our beautiful community or to schedule a time to take a tour, be sure to contact us today!