As our understanding about anxiety grows, the more we come to know about how anxiety manifests in our loved ones, especially our senior loved ones who live at the assisted living in Oceanside. As we age, it becomes more and more difficult to maintain the same kind of lifestyle that we had before, meaning that we can be more prone to mental health worries like anxiety and depression. 
However, anxiety doesn't have to be the end of your senior's exciting life ahead. While there is nothing better than speaking to a doctor if you are truly concerned about your senior's well being, these tips might be able to help give you a little peace of mind:
1. Do a fun, calm hobby.
Finding a hobby is a great way for seniors to not only flex their creative muscles, but to also have something to focus on that isn't their anxious thoughts. Hobbies are great for keeping busy to keep your brain occupied without doing anything too strenuous or taxing. 
Not only are hobbies great to help seniors keep their minds active in a healthy way, hobbies are also great for seniors who may have mobility issues and can use some extra practice using their hands
Some awesome, yet easy and calming, hobby ideas that your senior loved one can do are:
doing artwork, like painting or doing coloring pages

doing jigsaw puzzles

baking easy desserts or cooking simple meals

scrapbooking or journaling

gardening indoors with some easy indoor plants, like a miniature herb garde
At our assisted living in Oceanside, our facility has some awesome hobbies and classes for your senior loved one to participate in. We have painting classes and cooking workshops to get your brain working, and we also have table games, name that tune games, and more. 
2. Help them to be social in an uplifting and positive way.
Getting out and being social are difficult for seniors, who tend to suffer more than anyone from loneliness. Not only do seniors tend to struggle with getting out and about due to issues like mobility, but they also tend to have issues with cognitive disabilities like Alzheimer's and dementia. Loneliness and a lack of socialization can present itself in seniors through depression and anxiety.
Because of this, it's vitally important that our seniors have some way to socialize. If they're a member of our assisted living in Oceanside, then we offer many different kinds of social programs for all of our residents to attend and be involved in. We want to make sure that none of our seniors feel as though they aren't welcome. 
If your loved one is in another assisted living facility or simply doesn't enjoy attending many of the gatherings, then you should help your senior with other ways to be social. On their smartphone, connect your senior to different social media apps to help them be involved in their families' lives. Show your senior how to use FaceTime or Zoom to be just a video call away to your friends and family in case they need it. 
However, the most important thing for seniors is to make sure to visit them regularly. Go with your family on a visit to your senior loved one. They're sure to appreciate the visit, and even a little visit can go a long way.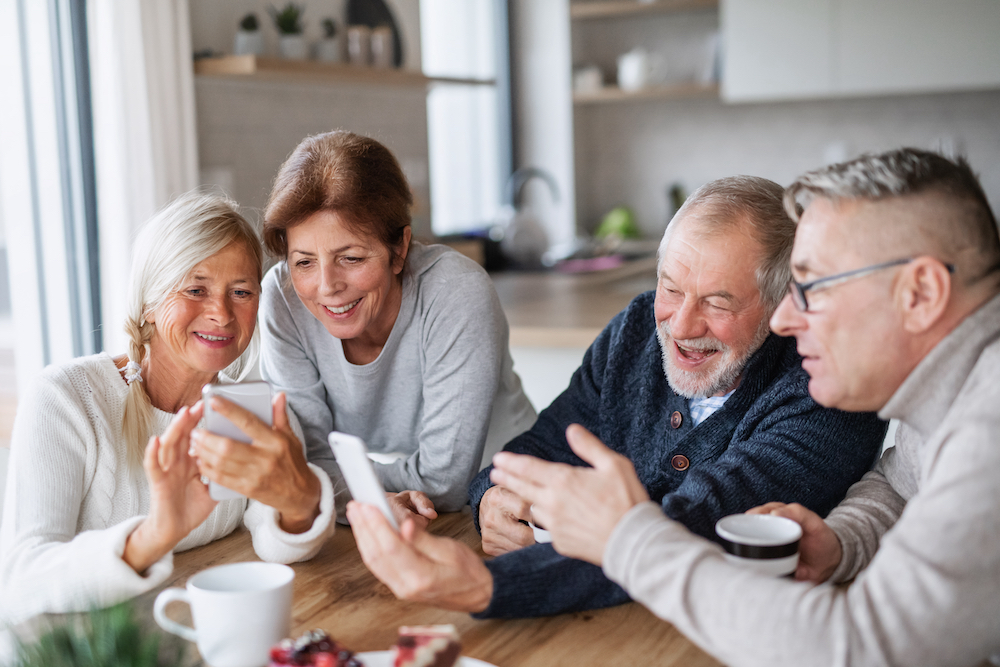 3. Regular exercise goes a long way to help with anxiety.
Not only is exercise good for your physical well-being, but it's a great tool to use if you or your senior is struggling with anxiety. When you exercise, your body produces endorphins and serotonin, which are the two main chemicals in the brain that produce pleasure. As a result, the more active your senior loved one is, the more of these chemicals that they produce, and the happier they are!
Here at Bayshire Carlsbad, our assisted living in Oceanside has many different options for getting your senior loved ones up and active. We have yoga and tai chi classes, walking groups, chair yoga, and more to get your senior up and active.  
4. A familiar and predictable routine can help. 
Routines are a great way for your seniors to stay involved. Many seniors, as they age, tend to have reduced cognitive functions and levels of independence. By giving your senior a routine, you can help them feel more independent and secure. A routine can give them more of a sense of control in a way that they may not feel like they have any longer. 
Don't make things too inflexible, though. Leave a little room for more and different activities to make sure that your senior doesn't have to feel like they're stuck in a routine and only have to follow exactly what they're used to. 
However, if you do need to change this routine, be sure to communicate well in advance any changes that you're making. It wouldn't do to spring a surprise doctor's appointment, party, or any other new adventure on them the morning of! That may be an even bigger source of anxiety than the actual event itself!
Quality Assisted Living in Oceanside
Here at Bayshire Carlsbad's assisted living in Oceanside, we have plenty of activities for your senior loved one to do to keep them active and involved and help keep their anxiety levels down. Our painting classes, cooking workshops, and more are the perfect way for seniors to be more social and learn a new and exciting skill. 
Our walking clubs are another perfect way to get your senior active and social. Light exercise like walking is the ideal choice for seniors who are still pretty mobile and need to get a little additional exercise. If your senior isn't as mobile, then our chair yoga or tai chi classes may be just the ticket. 
No matter what your senior loved one's needs are, we hope that you'll be able to find it here at Bayshire Carlsbad. If you're interested in making Bayshire Carlsbad your senior loved one's new home, contact us and schedule a tour today!