Seniors nowadays are more active than ever before. Many applications may be used to maintain social engagement, measure health and well-being, and improve intellect while on the road. Did you know that over 60% of persons over the age of 65 own a smartphone? If you're a smartphone owner, you presumably use mobile applications daily. Whether you are video chatting with your grandchildren, checking Facebook, or obtaining directions to dinner, a smartphone app makes it all possible. However, with well over two million smartphone apps accessible today, it's easy to get confused.
We've compiled a selection of senior-friendly smartphone applications for you to check out:
1.) Skype
(iOS and Android)
Suppose you need to communicate with family or friends. In that case, Skype allows you to do so via video and audio calls over the internet. Microsoft's Skype is another downloaded video chat program. With your smartphone, you may communicate with loved ones and see their faces. In addition to video calls, Skype may be used to make regular calls to mobile phones and landlines.
This application can be used and downloaded to smartphones, tablets, and PCs. A nice Skype feature for seniors may help the elderly by putting on live subtitles for deaf or hard-of-hearing individuals. This feature is activated in only two steps. To make an account, any senior may simply join up with an email address. The senior user can then add all their relatives and friends to their contacts by username or phone number. They may then just choose a user's name to video call them. Skype was updated to allow up to 50 people to participate in a Skype call simultaneously.
2.) Magnifying Glass and Lamp
(iOS and Android)
This app is excellent for seniors who have trouble reading small text. This magnifying app zooms in on whatever you aim it at, and you can instantly switch on the lamp to brighten what you need to read. Then, the user just sets the camera on their smartphone over the text and moves the screen slider. You can also "freeze" what you're looking at with a touch of the screen, so you don't have to point it in the same area the entire time you're reading. In addition, the text is automatically lit and expanded for easier viewing.
This is a good option for anyone who has difficulty reading menus, maps, or other tiny text in everyday life. For example, suppose you always struggled to see a restaurant menu, documents at the doctor's office, or food labeling. In that case, a magnifying and lamp app might prove helpful.
3.) Kindle, Apple Books, & Audible
(iOS and Android)
It's simple to access unlimited books directly on your smartphone if you're an avid reader but carrying heavy books around can be difficult.
Audiobooks are the best alternative to print for seniors with eye difficulties or arthritis, making handling a book painful. Audio-books have never been better, with fantastic narration from voice actors or the writer themselves.
       

If you have an Android device, you may browse millions of books from the comfort of your own home with the Kindle app.

       

Apple Books

provides digital texts and audiobooks for iPhone, iPad, iPod touch, and Apple Watch users.

       

Audible

offers the most extensive selection of audio-book titles available. It's free to download, but you'll need to pay for a membership to read the books. Audible also provides a risk-free 30-day trial period.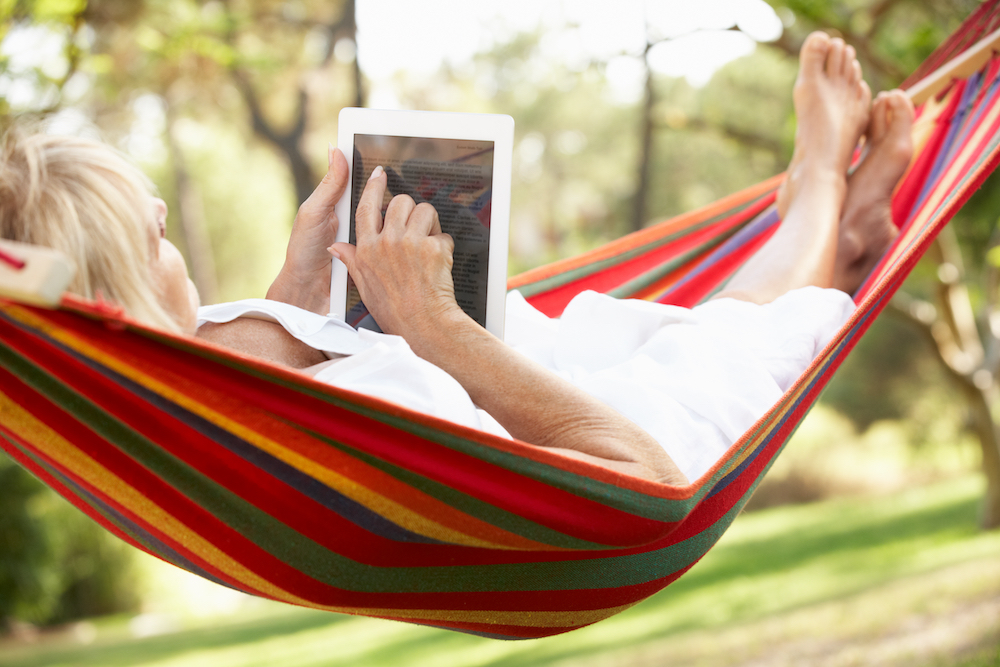 4.) GoodRX
(iOS and Android)
GoodRX is a website that compares prescription medicine costs to get the best deal. The app delivers current cash and discount pricing, coupons, and meaningful savings advice for thousands of medications at pharmacies around you. The app may also notify you when the price of a particular drug reduces, as well as when you're due for a refill. You won't even need to print the discounts from the app; just deliver your phone to the pharmacist and start saving.
One reason why seniors do not take their prescriptions as recommended is that they are too expensive. Users may use GoodRX to compare prescription medicine pricing at various pharmacies and uncover coupons that can be utilized immediately from the app.
5.) Facebook App and Facebook Messenger
(iOS and Android)
You've probably already joined Facebook because it's the most popular social networking site on the globe. The Facebook app gives you access to all of Facebook's features and the ability to use it from your phone. Getting the Facebook app for your iPad or smartphone may be a better choice for seniors who lead busy lives. While driving, you may check in on what everyone has been up to, upload a photo, or update your status with your activities.
Seniors who use the online version of Facebook on their desktop computers are already aware of its usefulness for staying in touch with busy relatives and friends. You may exchange messages or simply log in to see what everyone is up to. In addition, it's a terrific way to get updates and images from older grandkids who have graduated from high school or to see a video of their first grandchild for the first time.
If you are one of the seniors who have a Facebook account, you have already completed the legwork required to use Facebook Messenger. Messenger is a stand-alone program that links users via their Facebook profiles. You may video chat with a single person or in groups and send text messages and photographs. There are even funny and enjoyable things to test out when on a video call.
6.) Mint
(iOS and Android)
Mint is a fantastic app for organizing your finances across several accounts. The Mint app can help seniors keep track of their finances and budgets. Mint will track almost every credit card, investment, and bank account you add to your profile. Seniors just need to link their accounts to get a complete picture of their account balances, upcoming invoices, and spending habits. You may use the app to set reminders, pay obligations, and set a personalized budget. This is ideal for senior citizens who want to keep records of their spending or seniors on a budget.
Conclusion
Technology can be beneficial for seniors, and even a simple smartphone app may improve their lives. This is simply a small sample of the several apps available to seniors in Carlsbad retirement communities.
Today's seniors in Carlsbad retirement communities are more technologically savvy than ever before, and smartphone applications are one method to keep them connected to their loved ones and the rest of the world.