During the cooler weather brought on during the winter months, it can be more difficult for seniors to stay active. This is especially true for older adults who have mobility issues or who struggle with health concerns such as joint pain or arthritis. Even residents of the sunny senior living in Oceanside might find that the winter months are still too cold to do much outdoors, especially during the rainy season. 
So, what can be done? There are many ways that seniors can stay active while avoiding the rain, wind, and cold found outdoors. It just requires a little creativity and determination! Here at Bayshire Carlsbad, we've compiled a list of tips that can help keep seniors up and moving all winter long, staying active well into spring. 
1.) Go for a walk.
If the weather is mild during the day, throw on a light jacket and go for a stroll around the gorgeous grounds at the senior living in Oceanside. Walk around the beautiful walking trails and gardens that our community has to offer. Or, the famous Carlsbad beaches are only a quick 3 mile drive away and make the perfect outing for a warmer winter day! Walking is a great, low impact exercise and getting some fresh air is always a bonus.
On those days where the weather is less than ideal, take the time to walk up and down the halls of the senior living community. If you need to, hold onto the safety hand rails for extra support. Even simply doing a lap or two a day can do wonders for your physical and mental well being.
2.) Visit the on-site gym.
Here at Bayshire Carlsbad, our senior living in Oceanside is proud to offer our residents access to an on location fitness center. Here, you can do a light workout with dumbbells, use resistance bands, or lift using guided machines. Strength training is very important for seniors who have concerns about mobility. In fact, falls are the number one cause of accidental death among older adults in the United States according to the CDC. Working out throughout the winter, staying active, and building up muscle strength and mobility can help to ensure that you stay fit and healthy all through your golden years. 
3.) Participate in community activities.
Any reputable senior living community will feature a robust and active community calendar for residents to enjoy and take part in. This includes our senior living in Oceanside! Here, you can find plenty of opportunities to get involved and focus on fitness. Below are some of the activities that are frequently offered:
Yoga and Tai-chi
Looking for a way to stay fit with an emphasis on improving your mental health and focus? Yoga and tai-chi can both be great options! Focusing on controlled movement and breathing, you can use either of these exercises to improve your balance and fine motor skills as well as bring about mental clarity and finding your center.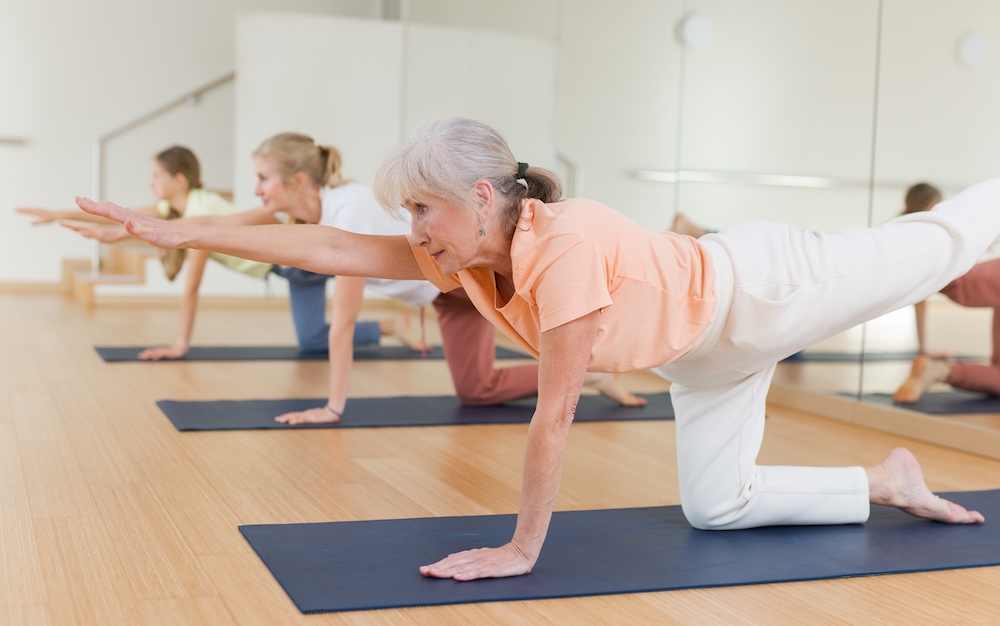 Cardio Classes
For many seniors, cardiovascular health is high up on the list of priorities. Preventing heart and lung disease is extremely important for older adults. By participating in the cardio classes offered at our senior living in Oceanside, you can help keep your heart and lungs healthy, even in the face of the harsh cold and flu season.
Walking Clubs
When it comes to working out, one of the best ways to stay motivated is to work out with friends! Walking classes, such as those offered here at Bayshire Carlsbad, provide ample opportunities for seniors to walk together. As mentioned above, walking is extremely beneficial to senior health. If you don't want to go at it solo, consider joining one of these fun walking clubs. 
4.) Play active video games.
While typically you might not associate seniors and video gaming together, it's time to think outside the box! Many video game consoles, such as the Nintendo Wii and virtual reality goggles, offer excellent ways for seniors to get up and move. Games such as skiing, snowboarding, boxing, bowling, and more, all provide an immersive gaming experience while also promoting movement and exercise. If you are a senior and you haven't yet given gaming a chance, here's your sign to do so! Many of these consoles are very affordable and can make a fun addition to your holiday wish list.
5.) Join a local gym.
For those that are wanting to really remain gungho about their fitness, joining a local gym is your best bet! A local gym will have a wide variety of fitness equipment you can choose from, including treadmills, stationary bikes, stair machines, free weights, and guided weight machines. Typically, many gyms even offer personal training services or the option to join in group fitness classes. If you are looking for something a little more intensive or want to opt for a higher level of training, joining a gym would make the most sense. 
Prior to changing up your fitness routine, however, make sure to check in with your doctor. You will want their 'all clear' seal of approval in an effort to avoid becoming hurt or severely injured. If you have had a previous injury or surgery of some kind, make sure to mention this if they aren't already aware.
Senior Living Oceanside
Now that you know a little more about how to stay active during the winter months, it's time to get moving! Take these tips into consideration as you go about the colder months. Find time to walk, participate in group activities, or simply visit the fitness center for lifting weights. Either way, you can't go wrong, and this focus on wellness will do wonders for your health. 
If you aren't yet a resident of Bayshire Carlsbad, the best senior living in Oceanside, contact us today to set up an appointment time to take a tour. We are confident that becoming a part of your community will help you to lead your happiest, healthiest life – all year round! From our caring, on-site staff, to our quality amenities, and a beautiful location in sunny California, there is no better place to enjoy your golden years than Bayshire Carlsbad.